T Minus 4 DAYS until the most wonderful season of all…no, not Christmas (even though that is also a favorite season), FOOTBALL!
We've been counting down the days since the last season ended, and this weekend we're so ready for some football (cough, War Eagle, cough)!
While guys seem to have their one game day shirt, or jersey they wear all year, that they like to claim as "lucky" (hey, it's only weird if it doesn't work), girls stock up on game day outfits all summer long.
Below are some favorite game day essentials (in my alma-mater colors, sorry I'm not sorry) for hot and cool games to take you through the season.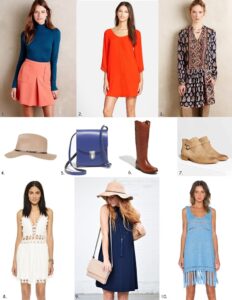 1. Blue Turtleneck & Orange Aline Skirt –
Anthropologie
– Perfect with booties, hat & a scarf // 2. Orange Shift Dress –
Nordstrom
– Comfortable & cute, what more do you need // 3. Printed Longsleeve Dress –
Anthropologie
– Be spirited, but different // 4. Tan hat –
Topshop
– Block out the sun while looking extra fashionable // 5. Mini Blue Purse –
Madewell
– Crossbody bags are essential for tailgating & games // 6. Camel-color Boots –
Nordstrom
– Invest in a nice pair of boots, you won't regret it // 7. Tan Booties –
BC Footwear
– Booties are also a wardrobe must-have, especially flats // 8. White Lace Dress –
Shopbop
– Stay cool on those extra hot game days in white cotton // 9. Navy Mock Dress –
Behind the Glass
– Simple, comfy & transitional is all you need // 10. Blue Crochet Dress –
Revolve Clothing
– For those hot games when you wanna look, well, hot.
Happy Tailgating!