Summer is at its high and so is baseball season! There's a game almost everyday in whatever State of America you're in, so grab your glove and head to the stadium.
Summer baseball games are one of my favorite American activities, and the other week I had the privilege of going to a Colorado Rockies game.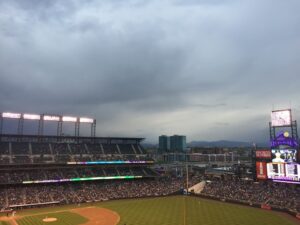 Although the Rockies aren't too hot this season (except they did beat the Braves when I was there), we still had a great time enjoying some Colorado IPA with a scene of the game and the mountains.
Since Baseball season will go through October, I wanted to do a post on some of my favorite Basic Baseball gear for the ladies!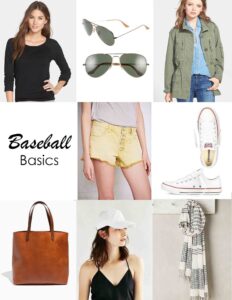 Maybe you're like me and you don't have a favorite baseball team (although I am kind of biased towards the Red Sox fan…which makes me a bad Texan), so you're not ever sure what to wear to a game. Always go with the neutrals.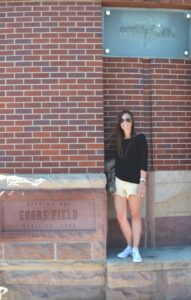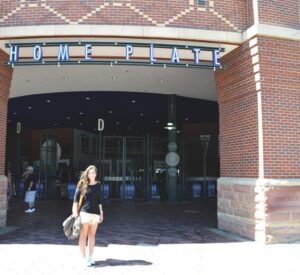 You can't go wrong with a black baseball tee (yes, I know a baseball tee is cliche but not as cliche as a baseball jersey, amiright?), cutoffs, and all-star chucks.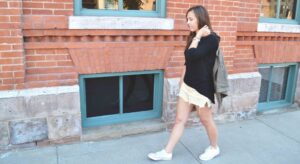 I always like to bring my field jacket (see what I did there?) and a bigger tote (to sneak in my goodies–you can fill in the blank for what goodies may mean).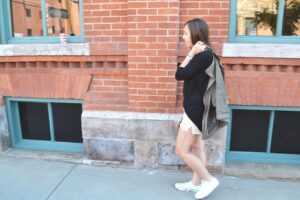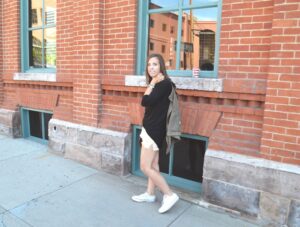 Product details from above Moodboard(from top to bottom, left to right):
1. Black Raglan Sleeve Baseball Tee- Nordstrom // 2. Classic Aviators – Ray Ban // 3. Sam Edleman Field Jacket – Dillards // 4. Cut off Shorts – Free People // 5. White All Start Classic Converse – Converse // 6. Brown Leather Tote – Madewell // 7. White Baseball Cap – Urban Outfitters // 8. Scarf – Anthropologie (scarf is a great way to add your team's color without having to wear an ugly fitted tee).
now
Play Ball!